Welcome to our guide on how to get TurboTax for free from Fidelity for the 2023-2024 tax season.
Fidelity customers have the opportunity to take advantage of this exclusive offer, which allows them to file their taxes with TurboTax Premier Online at no cost.
In this tutorial, I will be covering two things:
Who's eligible for the Fidelity free TurboTax program.
How to claim your offer.
Fidelity Free TurboTax Requirements
Fidelity's TurboTax Premier deal isn't explicitly outlined on its website. The following requirements are supported by past experiences and data.
Fidelity customers who do not meet the requirement can still get TurboTax for cheaper. You'll get up to $20 off TurboTax federal products: TurboTax Online, TurboTax Live, and TurboTax desktop downloads.
How To Download Your Free Fidelity TurboTax Premier
To check if you qualify for the free TurboTax offer:
Step 1: Log in to your Fidelity account. Use a web browser, not your Fidelity mobile app.
Step 2: Once logged in, navigate to the Summary tab for All Accounts.
Step 3: Scroll down to the bottom of the page. If your Fidelity account is eligible for the free TurboTax software, you'll see a text that says, "Get TurboTax Online Premier free."
Step 4: Click on Get started now to redeem your offer.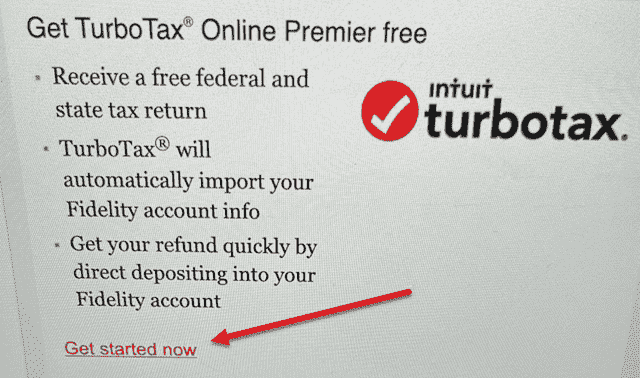 Some users reported their free offer didn't show up until January. Be patient if it's not visible immediately.
If the TurboTax Premier offer is not visible in your account summary, it indicates that you are not eligible. Remember that this offer is exclusively available to "select Fidelity customers."
Reported Problems and Solutions
Trouble finding the offer: Some couldn't locate the free TurboTax option. Suggestions included:
Preference for desktop version: Finding the desktop TurboTax version was challenging. Solutions offered:
Accessing the TurboTax download link directly via this link.
Searching for the desktop product by using the "help" feature on the site.
[Amazon Exclusive] Get TurboTax for $37.99
While Fidelity's offer is enticing, not all Fidelity customers qualify. In fact, most aren't eligible.
I found a deal on Amazon for TurboTax software from $37.99. I believe this is the lowest price available.
Final Thoughts
Eligibility for Fidelity's free TurboTax offer appears to vary based on undisclosed criteria.
The easiest way to check if your account is eligible for the free TurboTax download is by checking the Account Summary page in your Fidelity account.
💬 Community Discussion
Pete D:
Seems kinda pointless to me – most millionaires are going to need a CPA, not an off the shelf product. Why not give it to the ones who'd actually use it?
William H:
Fidelity needs to provide more helpful information regarding the free version of TurboTax for its clients.

Upon logging into my account, I received a notification that I was eligible for the free TurboTax Premier version. My Fidelity financial advisor was unable to provide an answer to my queries. Therefore, I purchased the TurboTax CD at Costco at a reduced price and used my usual method to prepare my taxes.
Cara B:
Fidelity gave me the opportunity to complete my taxes with TurboTax at no cost! I had planned on using TurboTax regardless, but the added benefit of getting the Premier version for free was a fantastic bonus.
James S:
Fidelity is fantastic! I have a tip for anyone completing their taxes with TurboTax! On the summary page for my portfolio investments, I scrolled down to the bottom and discovered a link for TurboTax that stated I could do my taxes at no cost! I had already planned to use TurboTax, but now I can do so without any additional cost. I am extremely pleased with this.