Encountering issues while using Fidelity's website, mobile app, or services can be an unpleasant experience.
It can be frustrating and time-consuming to try and solve the issue on your own.
Fidelity Investments provides different options for customers to receive the help they need, including email, live chat, and phone support.
Let's take a look at how to contact Fidelity customer service.
As a bonus, I'll share with you a few tips on how to avoid the wait time when calling Fidelity customer support.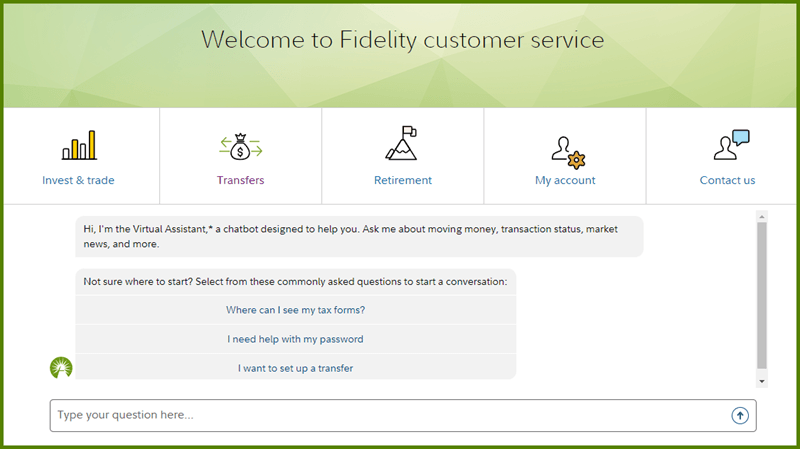 Fidelity Virtual Assistant
Virtual Assistant is designed to help you with your requests 24/7.
This is a chatbot with no wait time.
Fidelity Live Chat
Specialized support for your accounts or technical issues right from your computer screen.
Operating hours: Mon.—Fri. 8 a.m.—10 p.m. ET
Average wait time to chat: 5 mins
Fidelity Phone Support
Fidelity Customer service is available 24/7 at 800-343-3548
Operating hours: 24/7
Average wait time to talk: 10 mins
How to Reach Fidelity Customer Service Without Long Wait Time
Here are some tips on calling Fidelity customer service and not having to wait over an hour.
Tip #1: Call outside of peak hours. Basic customer service is available 24 hours a day, seven days a week.
Tip #2: It's easier to chat with an agent online because you can just be put on the wait list and go about browsing the internet, typically taking approximately 20 minutes. You can also go to a physical branch in your area to skip the wait.
Tip #3: When you call Fidelity, you can request a call back. And they'll give you an estimated call back time.
Tip #4: Tax season is Fidelity's busiest time of year. January 1st through April 15th (normal year), followed by Thanksgiving for the remainder of the year.
People contact Fidelity with questions about tax forms, IRA contributions, and required minimum distributions. If you wait until 11 a.m. CT, people in the Pacific time zone will be up and calling. Otherwise, you're doing the equivalent of driving during rush hour!
Fidelity Customer Service Reviews
Andrew B:
I've had some great Fidelity customer service over the years. Just have to be patient. I was on the line yesterday for 45mins-1hr. They are also super busy because a lot of Robinhood customers are switching their accounts to Fidelity.
Earnest T:
I've only had pleasant experiences with them. But I did sit with someone who had somewhat of a roller coaster ride. So I guess there's good and bad everywhere.
Clayton R:
My personal experiences with Fidelity's online and in-person customer service have been consistently positive. Although I recognize that some individuals may have different incidents, I hope you can resolve any issues or try alternative options.

I have found that Fidelity's web and phone platforms are exceptionally reliable and efficient.
Fidelity Customer Service Average Wait Time
Nola S:
1-2 minutes. I've never had an issue. Customer service has always been excellent as well.
Andrew G:
I wait between 5-15 minutes normally when I call. When I can, I use the chat. There's an estimate for the time and you get everything in writing for review later.
Shane F:
I'm lucky if anything happens for 15-20. Usually takes about an hour for me.
Allen M:
It's pretty quick, you might get transferred. Depends on what you're calling about.
Austin L:
On one occasion, I contacted them after business hours, and my call was promptly answered in under 5 minutes. However, it is worth noting that they have a reputation for long wait times during trading hours.
Sherry L:
I have a dedicated advisor, so he usually answers immediately or returns my call within a short timeframe.