Are you having trouble logging into your Fidelity mobile app? It keeps crashing every time you attempt to open it, right?
Those are some commonly reported issues from Fidelity customers. I personally have been through a few of those incidents.
What To Do if the Fidelity App Is Not Working?
If the Fidelity mobile app is not working on your iPhone or Android devices, try the following troubleshooting tips.
Tip #1: Force Close the App
For iPhone Users:
Force close the Fidelity app by swiping up from the bottom of the screen.
Locate the Fidelity preview screen.
Swipe up on it to force quit the app.
Locate the Fidelity app on your home screen and re-open it.
For Android:
Open the Settings app.
Tap on Apps or Apps & Notifications.
Select the Fidelity app.
Tap on the Force Stop option and confirm your action.
Tip #2: Re-Install the Fidelity App
If the problem persists and the Fidelity app is still not working or responding on your iPhone or Android devices, it's time to delete and re-install the application.
Deleting the Fidelity mobile app also helps with the widget data not available error. I know this has been an ongoing issue for some users.
For iPhone:
Touch and hold the Fidelity app on your home screen.
Tap Remove App.
Confirm your action by selecting Delete App.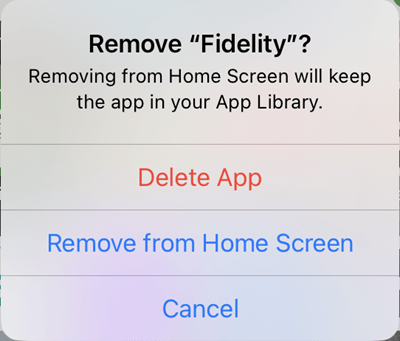 For Android:
Open Settings on your Android device.
Tap Apps > See All Apps.
Find the Fidelity app and select Uninstall.
Tip #3: Clear Cache and App Data
If the Fidelity app still doesn't work, it might be holding on to some old data. Let's clean it up:
Go into Settings > Apps > choose the Fidelity app. Clear cache, then clear data. You'll need to log back in and reset any preferences you might have changed.
Community Insights
I reached out to the Fidelity community, and here's what I found:
A member by the name of "JuliaC" reported experiencing the same issue. According to a Fidelity tech lead, they're aware of it.
It seems to be related to the latest iOS update on the iPhone. The good news is, they're working on a brand-new app that should be available by year-end.
"JWD" had a nifty tip for Android users. Simply close all apps using the "Box" button, then reopen Fidelity. It worked like a charm!
One last thing, don't forget to check your internet connection. That could be the culprit if your Wi-Fi isn't working or unreliable.