FZROX and FSKAX are two of the most popular mutual funds available today.
Both funds invest in large-cap stocks and have a similar investment strategy. However, investors should be aware of some key differences between the two.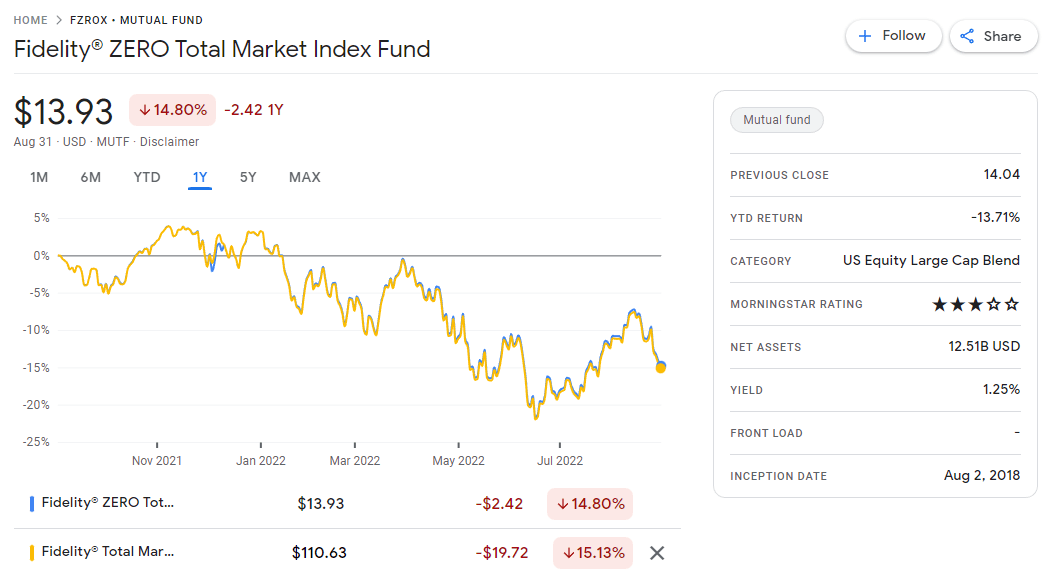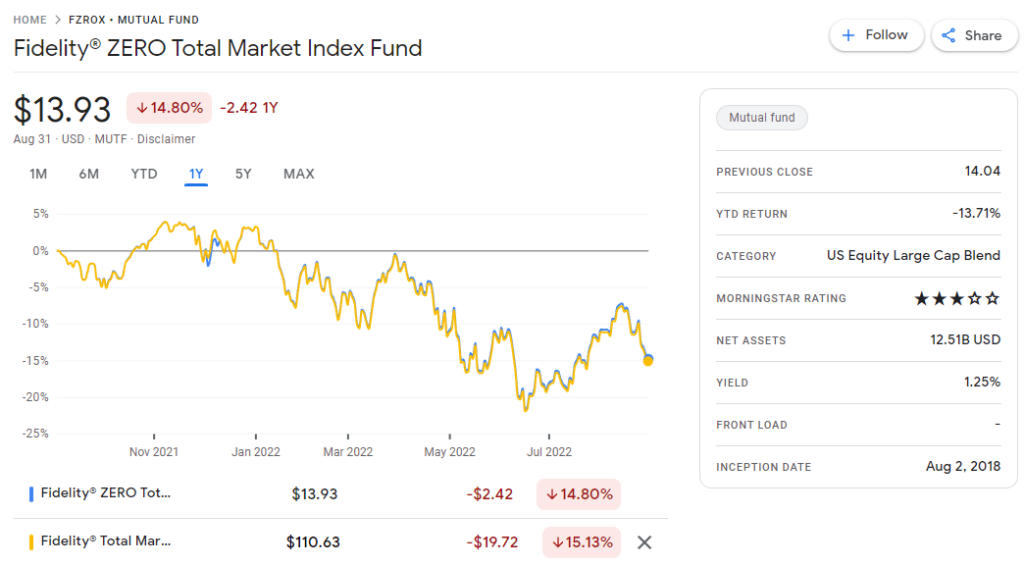 FZROX: Fidelity ZERO Total Market Index Fund
The Fidelity ZERO Total Market Index Fund (FZROX) is a mutual fund that seeks to provide investors with exposure to the entire U.S. stock market by investing in a broad range of U.S. equity securities.
The fund invests in stocks with market values greater than $10 billion. The fund is managed by Fidelity Investments, one of the largest asset managers in the world, with over $11 trillion in assets under management.
FSKAX: Fidelity Total Market Index Fund
The Fidelity Total Market Index Fund (FSKAX) is a mutual fund seeking to provide investment results corresponding to the total U.S. stock market. 
The fund invests in a variety of U.S. common stocks. It seeks to track the performance of the Dow Jones U.S. Total Stock Market Index, which covers approximately 99% of the investable U.S. equity market. 
FSKAX has a net expense ratio of 0.015%.
FZROX vs. FSKAX: Comparison Details
| Funds | Fidelity® ZERO Total Market Index Fund | Fidelity® Total Market Index Fund |
| --- | --- | --- |
| 3-year total return | +25.81% | +25.72% |
| 3-year standard deviation | 18.21% | 18.21% |
| Morningstar rating | ⭐⭐⭐ | ⭐⭐⭐⭐ |
| Min. initial investment | 0.00 | 0.00 |
| Net expense ratio | 0.00% | 0.02% |
| Total net assets | 13.26bn USD | 77.51bn USD |
| Symbol | FZROX | FSKAX |
| Morningstar category | Large Blend | Large Blend |
FZROX vs FSKAX: Key differences
The biggest difference between FZROX and FSKAX is their expense ratios.
FZROX charges no fee, while FSKAX charges 0.02%, or $2 for every $10,000 invested.
Investors can expect the two funds to have similar holdings and performance. Their overall portfolio contains the same stocks.
FZROX vs. FSKAX: Which one is better?
Winner: FZROX.
Mark wrote — Dec 10, 2019
I just got back from a meeting with a Fidelity consultant and could use some further guidance.
I went to discuss further investing. My current situation is that my 401K is maxed, IRA is maxed, EF is well funded. So basically I have some money in savings that I want to make work for me and I was thinking about investment into Index funds. I'm about 20 years from retirement and I don't want something high maintenance on my end. All of my accounts are in Fidelity so I'd like to stay there.
He highly recommended I use a Fidelity Go account. It's a robo manager that invests into stocks, bonds, etc. The cost is 0.35%. When I asked his thoughts on if I should buy some FZROX or FSKAX he seemed alarmed because these are all stocks. I told him I wasn't afraid of fluctuation since I'm pretty far out from retirement.
I was thinking I'd still invest in either FZROX or FSKAX, does that seem like a good idea? If so, is now a good time?
Mikado G wrote — Dec 11, 2019
My HSA (through Optum) has $2k in cash (this is the required minimum) and the rest is 100% allocated in Vanguard total market fund. If I had the option, I'd put it in FZROX (but like we were discussing elsewhere, if you want broader exposure go for FSKAX).
Russ R wrote — Dec 11, 2019
I roll my HSA into Fidelity once a year. 100% FZROX.
Benjamin Y wrote — Mar 9, 2020
If you know what you are going to buy what's the point of paying an extra expense fee? If you want to keep it simple you can just buy something like 80% total market fund and 20% total bond fund.
Shawn P wrote — Jan 8, 2022
If it's in a taxable account you may be better off just doing FXAIX just because it has a slightly lower turnover ratio. I personally have FXROX in my Roth and a S&P 500 fund in my HSA. Regardless you are on the right track, and we're only talking about extremely small percentage difference no matter what you decide. Congratulations on starting your journey!
Dean P wrote — Jan 8, 2022
I would either pick FZROX, or FNILX due to the zero expense ratio. Then add something based on the NASDAQ-100 , such as QQQM, or something in tech such as FTEC or VGT. There's overlap in the last three funds i mentioned, so you may want to just pick one.