QQQ is an exchange-traded fund that follows the Nasdaq 100 index. It is a passive fund, meaning it doesn't try to beat the market; rather, it simply tracks its underlying index.
The QQQ contains a wide range of companies in the technology industry, including Apple, Microsoft, Facebook, and Alphabet Inc. (known as Google).
Because technology investing has been working so well recently—and because tech companies are typically large caps rather than small caps—the QQQ ETF has been very successful thus far.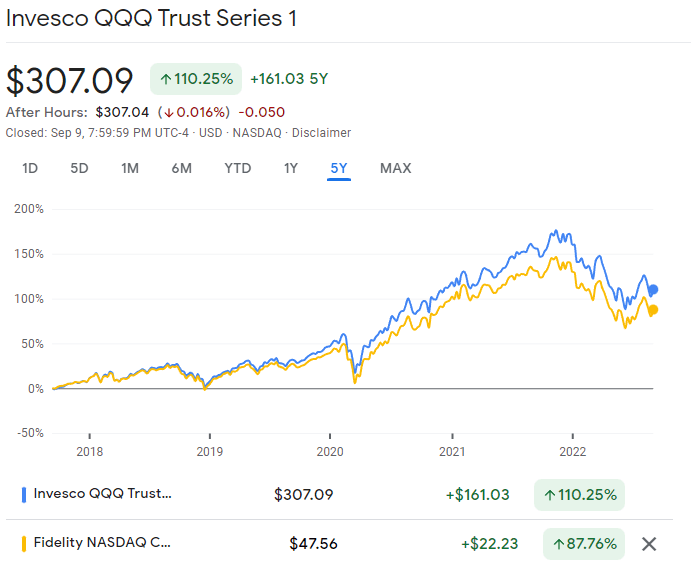 The Fidelity Equivalent of QQQ
The Fidelity equivalent of QQQ is the Fidelity Nasdaq Composite Index Fund (ONEQ).
However, unlike QQQ, which only includes the 100 largest non-financial companies, ONEQ has 1,000+ stocks listed on the Nasdaq exchange. This makes ONEQ more diversified than QQQ.
The fund was launched in 2003 and has an expense ratio of 0.21%. The turnover rate for this fund is only 11%, so you can expect that your investment will be more or less reflective of market returns minus fees.
| Funds | Invesco QQQ Trust | Fidelity Nasdaq Composite Index ETF |
| --- | --- | --- |
| 3-year total return | +17.59% | +15.17% |
| 3-year standard deviation | 22.71% | 22.54% |
| Morningstar rating | 5/5 | 5/5 |
| Net expense ratio | 0.20% | 0.21% |
| Total net assets | 164.34bn USD | 4.00bn USD |
| Symbol | QQQ | ONEQ |
| Morningstar category | Large Growth | Large Growth |
QQQ vs. ONEQ: Which Is Better?
Based on our analysis, QQQ is better than ONEQ for several reasons.
QQQ is cheaper than ONEQ. Their expense ratios are 0.20% and 0.21%, respectively. Though, the difference is only 0.1%.
Both QQQ and ONEQ provide exposure to large-cap stocks, but they differ in terms of sector composition.
QQQ's portfolio is concentrated with large-cap tech stocks, while ONEQ's portfolio has over 1,000 different stocks on the Nasdaq exchange (including those in the QQQ). In a way, you can say that it's more diversified.
If your goal is diversification, then the ONEQ is a better choice. You get the same basket of stocks as the latter. However, you're sacrificing some of the growth potential.
If you don't mind the risk and volatility, you may yield better returns for your portfolio with the QQQ.
Gerry S wrote — Jan 8, 2021
FNCMX is a total NASDAQ index fund; QQQ is the Nasdaq 100. Similar, but not exactly the same.
Justin O wrote — Jan 8, 2021
You're likely better with the ETF form. QQQM is a lower expense version of QQQ meant for long term holding.
Gross expense ratio: QQQM is 0.15%, QQQ 0.20%, while FNCMX is 0.36%.
Mutual funds in the past had benefits. But most of those have gone away.
QQQM is new, but will outperform QQQ slightly due to your expense ratio.
QQQ has outperformed FNCMX ($62k vs $53k over 10y) due to its better expense ratio and it following the NASDAQ-100 vs. NASDAQ-Composite (all NASDAQ stocks).
Jason B wrote — Jan 8, 2021
I have FTEC in my portfolio as a replacement of QQQ. However, FTEC is an ETF and isn't equivalent to QQQ. ONEQ would be the closest one.