For those looking to invest in large-cap stocks, Fidelity offers two broad market index funds: Fidelity ZERO Large Cap Index Fund (FNILX) and Fidelity® 500 Index Fund (FXAIX).
Both funds have similar objectives—tracking the S&P 500 by investing in large-cap companies in the U.S.
In this article, we'll look at some of the differences between FNILX and FXAIX so you can decide which fund is suitable for your portfolio.
FNILX: Fidelity ZERO Large Cap Index Fund
Fidelity ZERO Large Cap Index Fund (FNILX) is a passively managed fund that closely follows the S&P 500 Index. However, it uses the Fidelity U.S. Large Cap Index as its benchmark.
FNILX is part of Fidelity ZERO Expense funds, which means investors get to own a basket of large-cap stocks without paying a dime in management fees.
The top 10 holdings in FNILX are:
| Company | % Net Assets |
| --- | --- |
| Apple Inc. | 7.00 |
| Microsoft Corp. | 5.88 |
| Amazon.com Inc. | 3.31 |
| Tesla Inc. | 2.10 |
| Alphabet Inc. Cl A | 1.96 |
| Alphabet Inc. Cl C | 1.80 |
| Berkshire Hathaway Inc. Cl B | 1.52 |
| UnitedHealth Group Inc. | 1.43 |
| Johnson & Johnson | 1.29 |
| NVIDIA Corp. | 1.27 |
FXAIX: Fidelity 500 Index Fund
The Fidelity 500 Index Fund (FXAIX) uses a passive strategy to replicate the S&P 500 index by holding all its components in proportion to their weighting at any given time.
The expense ratio of FXAIX is 0.02%. This means for every $10,000 invested, $2 will be deducted from your account as an annual fee.
The top 5 primary market sectors in FXAIX are Information Technology, Health Care, Consumer Discretionary, Financials, and Communication Services.
FNILX vs FXAIX: Key differences
There are a few key differences between these two funds. 
First, there are no fees attached to FNILX. This help investors save some more money because they don't have to pay an extra management fee to Fidelity. FXAIX, on the other hand, charges 0.02% per year. However, the difference in costs is very insignificant.
FXAIX is one of the largest funds on the market, with over $350 billion in assets under management. FNILX is a newcomer with only $5.3 billion in assets.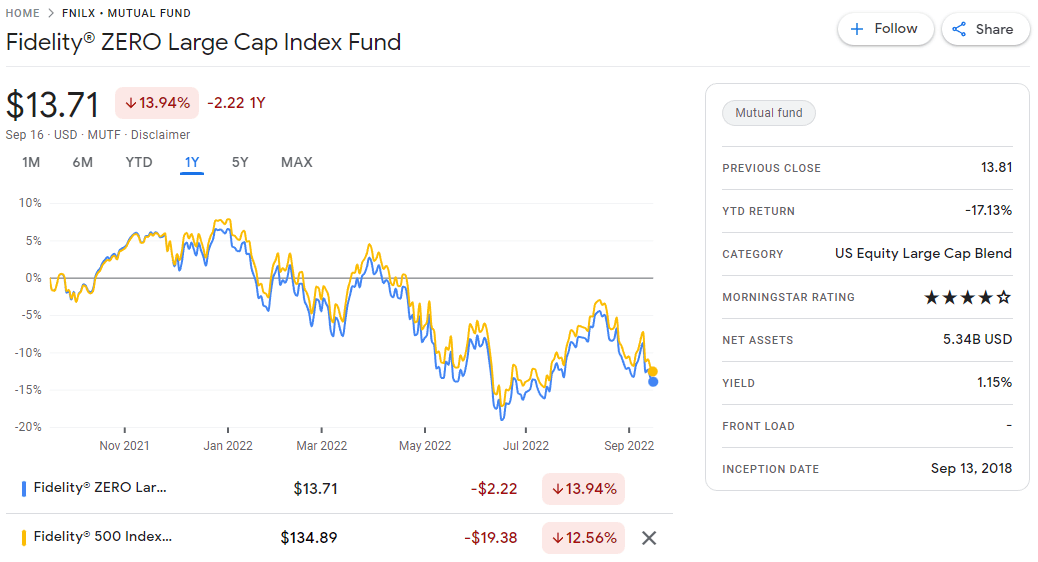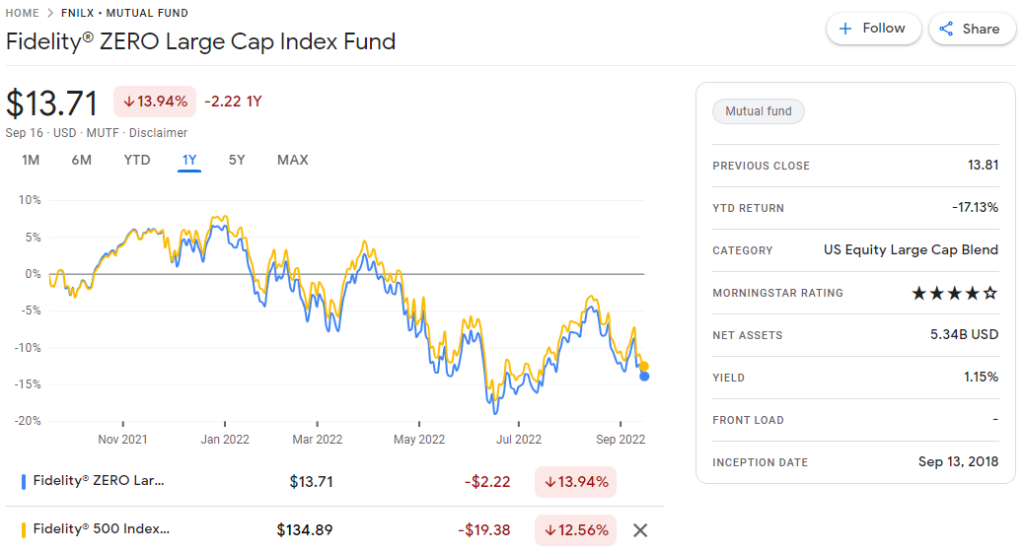 FNILX vs FXAIX: Performance
We'll take a look at the performance of each fund so you can see how they've performed over the past five years and how they compare to each other.
First, let's look at FXAIX's performance
FXAIX has been around since 1988 and has had an average annual return of 11.09% in the last 5 years. That is in-line with its benchmark.

Now let's see what FNILX looks like:
FNILX is new (started in 2018), so there was not enough data to show the average return in the last 5 years.
However, when we look at its record from the last 3 years (average annual returns of 10.58%), the fund has proven to be a stable large-cap fund that competes with FXAIX and VOO.

FNILX vs. FXAIX: Which Is Better?
FNILX is practically identical to FXAIX. Both funds invest in the exact stocks, offer the similar dividend yield, and most importantly, provide comparable annual returns.
The Fidelity ZERO Large Cap Index Fund has a lower expense ratio than the Fidelity 500 Index Fund (0.00% vs 0.02%).
So, if you're looking to save money on fees, consider investing in FNILX instead of FXAIX. Otherwise, it makes no difference.