Are you considering moving your investments from Charles Schwab to Fidelity?
The process of transferring your assets can seem intimidating, but it doesn't have to be.
In this guide, we'll walk you through each step of the transfer process so that you can seamlessly transition from Charles Schwab to Fidelity.
How to Transfer from Charles Schwab to Fidelity
Step 1: If you don't have an account with Fidelity yet, start by signing up for one. (If you already have an account, skip this step.)
Step 2: Navigate to the Transfer of Assets page.
Step 3: In the "Select your current firm" section, select Charles Schwab.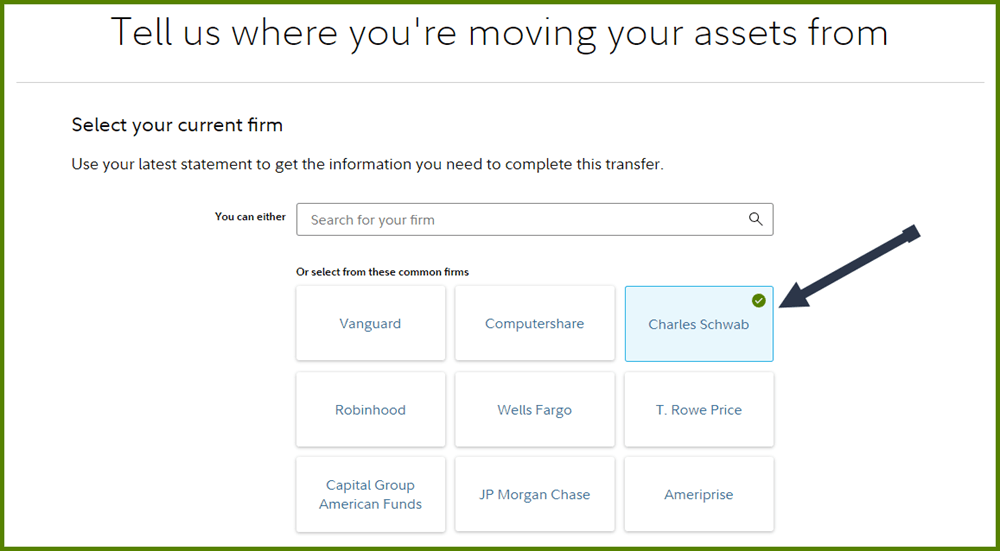 Step 4: Choose the information that appears on your Charles Schwab statement, either an 8-digit account number, your social security number, or an account number ending in "G."

Step 5: Click Next.
Step 6: Enter your Charles Schwab account number and select your account type. You can find this info in your current firm's statement.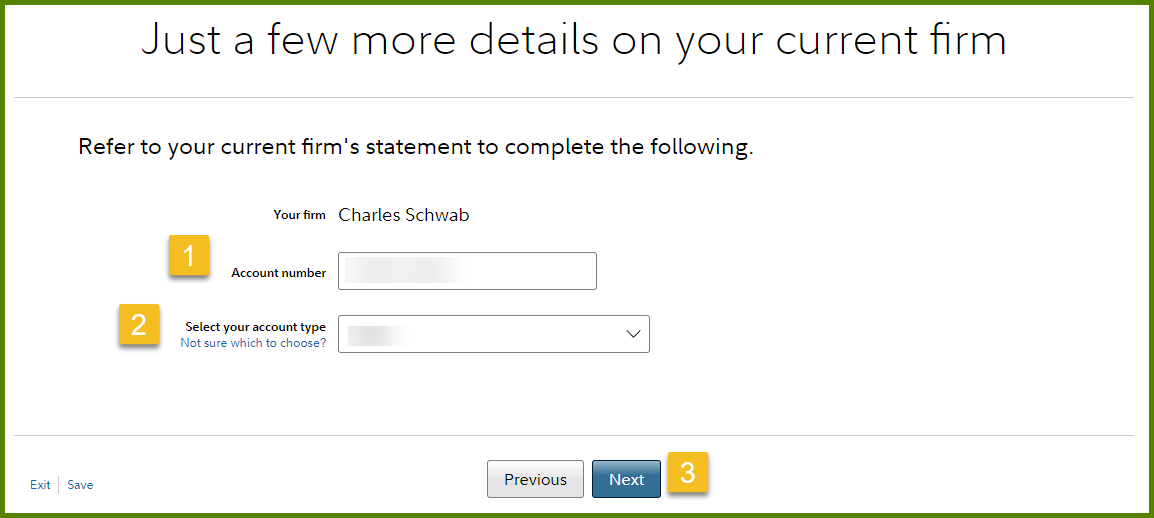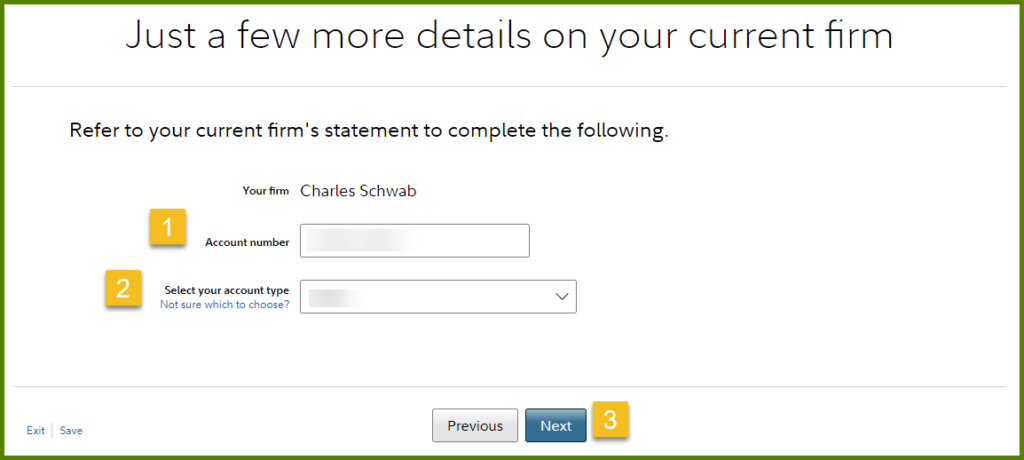 Step 7: Fidelity will ask additional questions about your transfer request:
Where to transfer your assets to (Select between "An existing account" and "Open a new account")
Enroll in margin trading (Yes or No)
Is this a full account transfer? (Yes or No)
Upload a recent statement from Charles Schwab (Optional but recommended for faster processing time)
Step 8: Finally, once you're ready to confirm your request, click on Submit.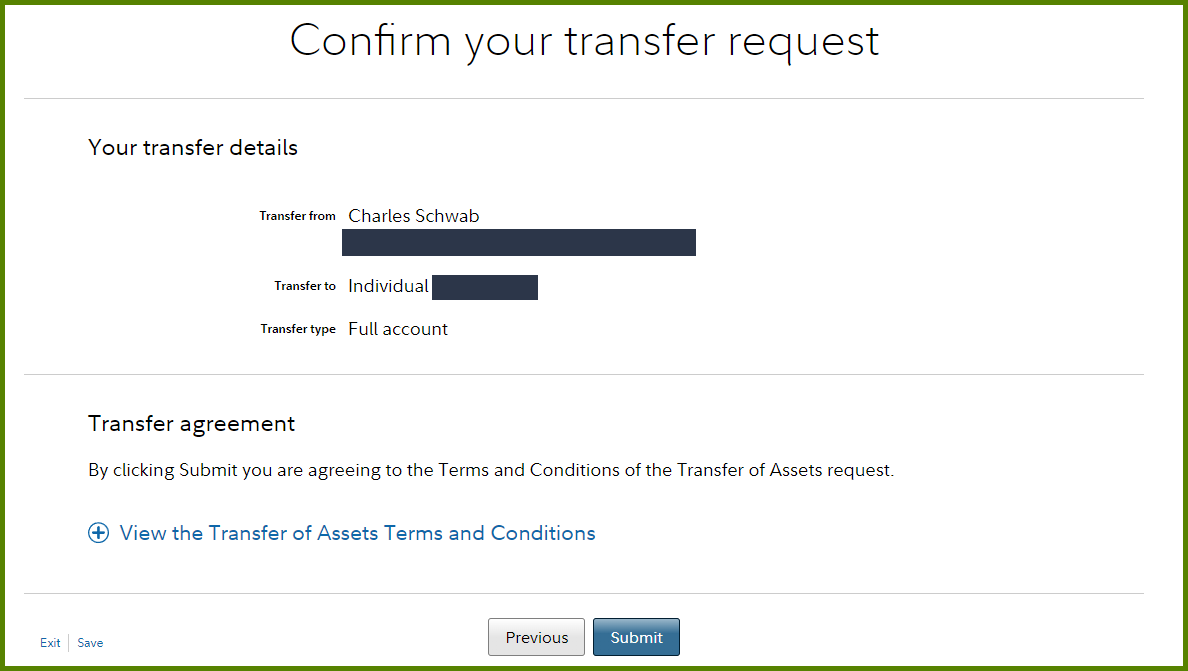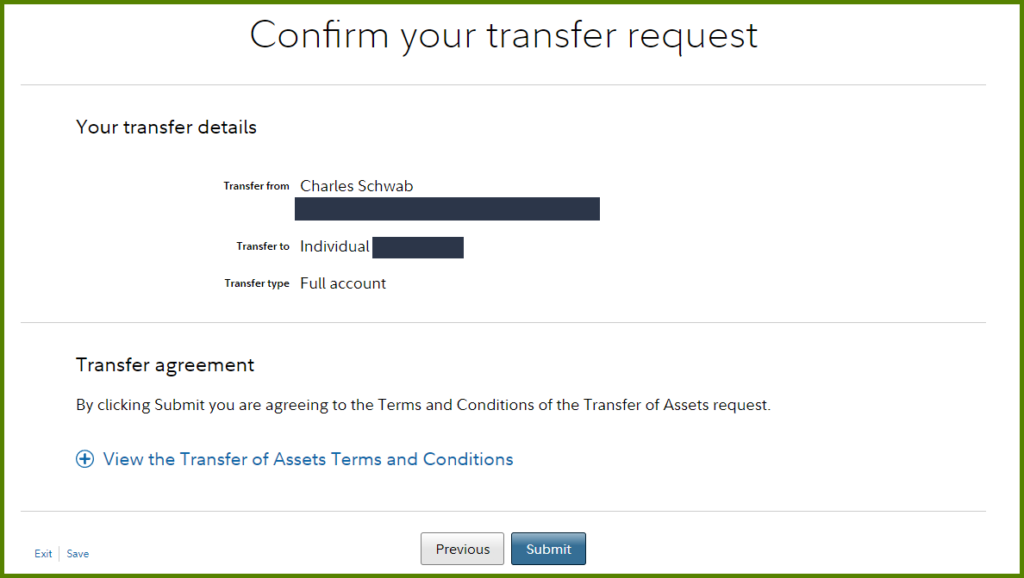 Once your transfer request has been submitted. Fidelity will contact Charles Schwab to move your assets out and into Fidelity.
How Long Does It Take To Transfer From Charles Schwab to Fidelity?
Transferring from Charles Schwab to Fidelity may take 3 to 5 business days. However, it can be longer based on the type of your account and the delicacy of your current investments.
In the meantime, you can use the Transfer Tracker tool to monitor the progress.
Does Charles Schwab Charge for Account Transfer?
Charles Schwab may impose a small fee for transferring your account out of their company.
Fidelity can typically reimburse you for any outgoing Automated Customer Account Transfer (ACAT) fee charged by your current broker.
Which Types of Investments Can Be Transferred to Fidelity?
You should be able to transfer the following assets over to Fidelity:
Stocks
Bonds
ETFs
Mutual Funds
Options expiring in 5 days will likely stay in your Charles Schwab account until expiration.