When it comes to investing in the S&P 500, you have a variety of options.
Fidelity 500 Index Fund (FXAIX) and Schwab S&P 500 Index Fund (SWPPX) are popular among investors. But which one is better?
In this blog post, we'll explore the similarities and differences between FXAIX and SWPPX and help you decide which fund is the best for your personal investing strategy.
FXAIX vs. SWPPX: Comparison Details
| Funds | Fidelity® 500 Index Fund | Schwab® S&P 500 Index Fund |
| --- | --- | --- |
| 3-year total return | +7.65% | +7.64% |
| 3-year standard deviation | 21.16% | 21.16% |
| Min. initial investment | 0.00 USD | 0.00 USD |
| Net expense ratio | 0.02% | 0.02% |
| Total net assets | 352.77bn USD | 60.80bn USD |
| Morningstar category | Large Blend | Large Blend |
Expense Ratio
The success or failure of a mutual fund is largely determined by its performance and fees. 
When comparing FXAIX and SWPPX, we can see that both have identical expense ratios of 0.02%, similar total net assets, and comparable returns.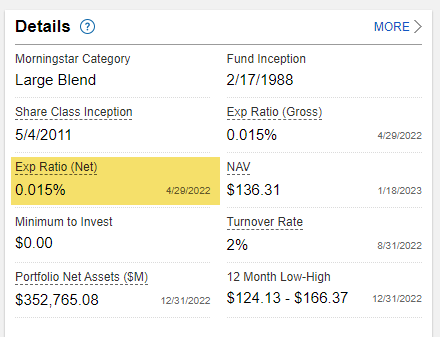 Performance and Returns
Over the past ten years, FXAIX has returned 12.35% per year, while the SWPPX has returned 12.29% per year.
Because of their underlying benchmark, their annualized returns are extremely similar.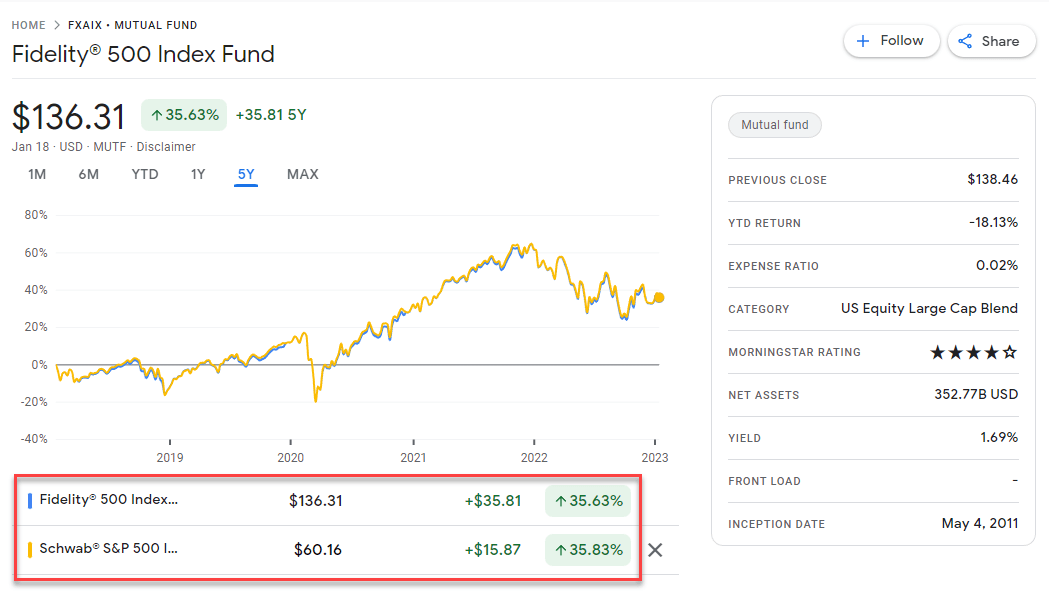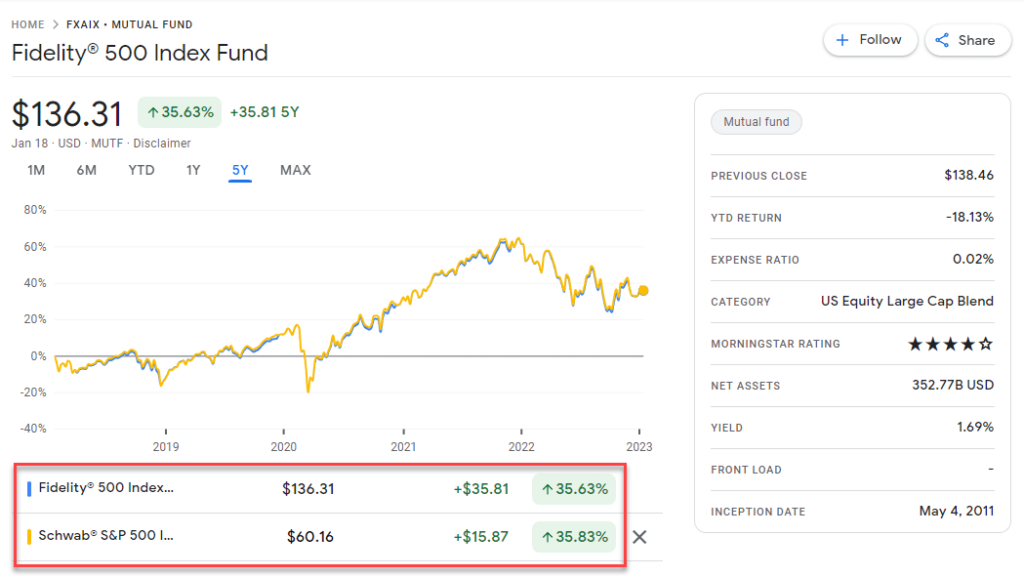 Total Net Assets
The similarity in performance between these two funds doesn't mean they are interchangeable. It's important to consider other factors like fund size and minimum investment requirements.
For example, FXAIX has 352 Billion in assets under management, while SWPPX has 60.80 Billion.
Which is Better, FXAIX or SWPPX?
In conclusion, it is crucial for potential investors to consider all aspects when making a decision between similar funds to invest in.
When comparing the Fidelity 500 Index Fund (FXAIX) and the Schwab S&P 500 Index Fund (SWPPX), it's generally accepted that there is a no winner. Both funds provide investors with access to a diverse portfolio of the 500 largest U.S companies.
The only time it makes sense to be critical is if you're investing with Fidelity. This is because Fidelity customers will be charged a transaction fee when purchasing outside mutual funds in their brokerage accounts, so FXAIX might be the better option.