If you're like me and have been trying to set up a linkage between Fidelity and another institution using Plaid, you might have hit a few roadblocks.
From what I gathered, many Fidelity customers also need help with this process.
Fortunately, there are alternative methods to get your accounts connected smoothly.
Here's a step-by-step guide to troubleshooting the Plaid connection error with Fidelity.
What To Do When Plaid Is Not Connecting to Fidelity
If Plaid does not allow you to connect your bank account to Fidelity, you can try to submit the banking information manually.
Step 1: Start by logging in to your Fidelity account. Once you're in, expand the "Accounts & Trade" menu and select "Account Features."
Step 2: Within the "Account Features" section, click on "Payments & Transfers." From there, choose "Electronic Funds Transfer (EFT)."
Step 3: To initiate the process, click on the "Link a New Bank Account" button located in the upper-right corner of the page.
Step 4: Under the section titled "How do you want to add bank information?", toggle the button for "Enter my bank information on my own."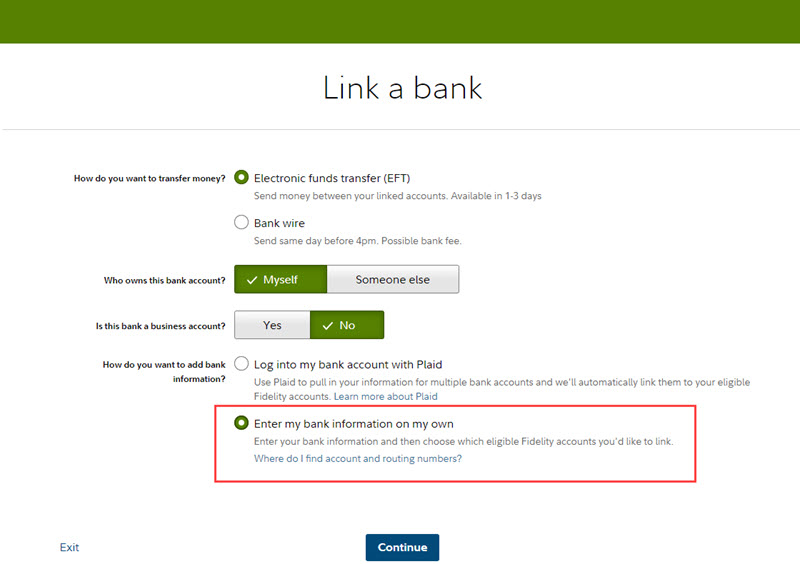 After that, you can submit your bank information and transfer funds from your institution into your Fidelity account.
Alternatively, Fidelity customers can complete the EFT form and submit it to customer support via the secure message center.