Someone asks: I recently initiated a transfer from my bank account to my Fidelity brokerage account, and I noticed that UMB N.A Bank is processing the transaction. Is this legit or should I be worried? The bank statement made no mention of Fidelity withdrawing the money.
UMB Bank Fidelity Explained
UMB is Fidelity's trusted banking partner. Since Fidelity operates as a brokerage firm rather than a bank, UMB plays a crucial role in managing all funds related to Fidelity transactions.
After requesting a transfer of funds from your bank account to a Fidelity checking account, you may see "UMB N.A" on your bank statement. This is because UMB is the bank responsible for processing the transaction on behalf of Fidelity.
UMB, headquartered in Kansas City, Missouri, offers a range of standard financial services including checking and savings accounts. It's important to note that UMB is a separate entity and is not owned by Fidelity.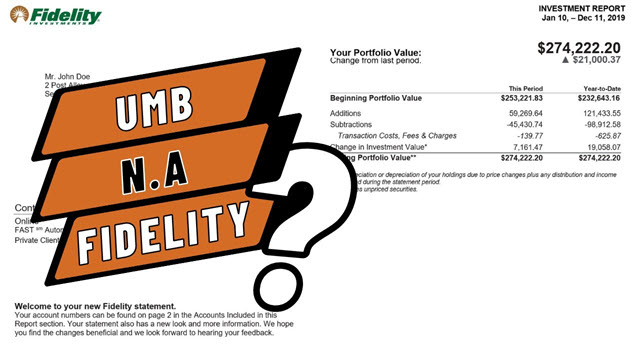 Direct Deposits to Fidelity through UMB Bank
For direct deposits and other electronic funds transfer features, Fidelity's brokerage accounts function akin to checking accounts.
The deposits are also routed through UMB N.A Bank.
When setting up deposits, you should provide UMB's name and address for a seamless process:
United Missouri Bank
1008 Oak Street
ACH Department
Kansas City, MO 64106
Final Thoughts
It's not uncommon to see "UMB, NA" appear on your transfer details rather than "Fidelity Investments."
Rest assured, this is entirely normal. Many types of transfers in and out of Fidelity accounts are routed through their processing bank, United Missouri Bank (UMB).