The Vanguard Total Stock Market Index Fund Admiral Shares (VTSAX) is a great investment for anyone looking for a low-cost way to invest in the stock market.
VTSAX is a passively managed fund that tracks the performance of the entire U.S stock market. Therefore, it gives you exposure to some of the largest and most well-known companies in America.
One of the biggest benefits of VTSAX is its low expense ratio. With an expense ratio of just 0.04%, VTSAX is one of the cheapest funds available. This means you can keep more of your money working for you and allows you to reinvest your dividends at a higher rate than many competing funds.
Like many mutual funds at Vanguard, you can purchase VTSAX for as little as $3,000. Additionally, VTSAX is available in most employer-sponsored retirement plans like 401(k)s, so it's accessible to just about anyone with a job.
How to Invest in VTSAX with Fidelity
Investing in VTSAX is extremely easy. All you need is a brokerage account with Fidelity. Here's how to purchase the popular Vanguard mutual fund on the Fidelity website.
Visit Fidelity.com and log in to your trading account.
In the main menu, select Accounts & Trade.
Click Trade.
Select your investment account.
In the Symbol field, enter VTSAX.
In the Dollar Amount field, enter the total amount you want to spend on this fund.
Click Preview and Place Order.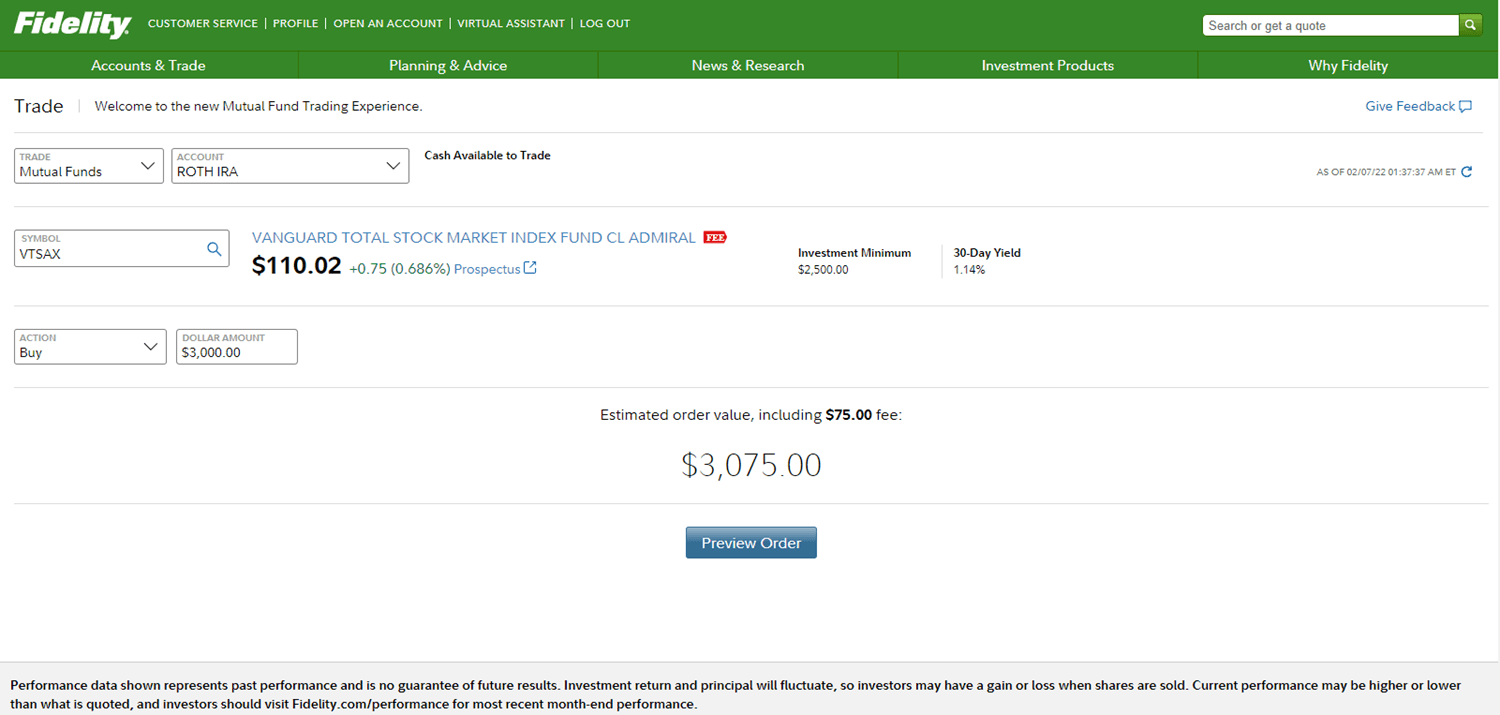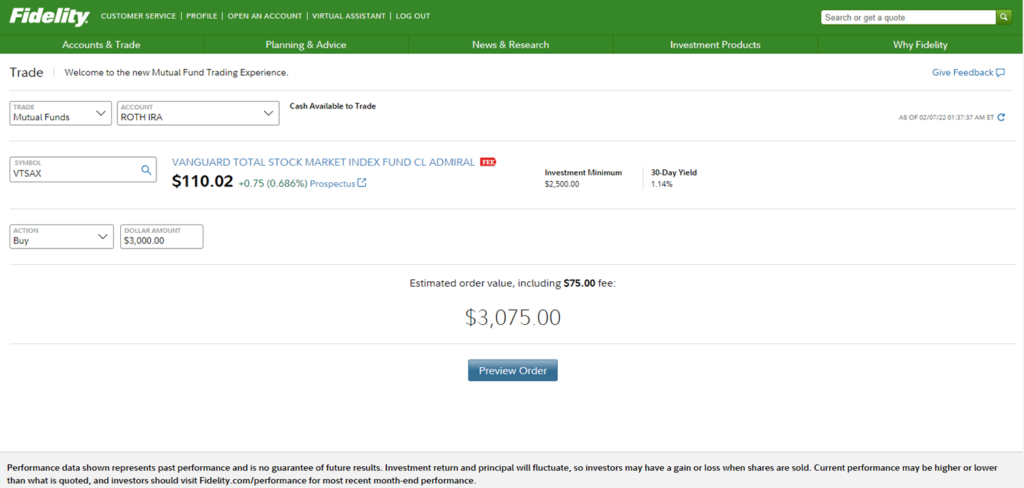 FAQs
How much does it cost to buy VTSAX on Fidelity?
There is a $75 transaction fee to buy VTSAX through Fidelity. This fee applies every time you buy the Vanguard fund. It's free to sell.
What is the turnover rate of VTSAX?
The turnover rate of VTSAX is 8%. This number is important because a high turnover rate can lead to higher taxes and transaction costs. Thankfully, the turnover rate of VTSAX is relatively low.
How often are VTSAX dividends paid?
VTSAX usually pays dividends every quarter. You can see the exact dates on Fidelity's website. When a company pays a dividend, it distributes a portion of its profits to shareholders. Shareholders who hold the stock on the ex-dividend date will receive the dividend payment.
Does VTSAX have international exposure?
No, VTSAX does not have any direct exposure to the international market. The asset allocation of the Vanguard Total Stock Market Index Fund is 98% domestic stocks.
Does VTSAX have a minimum investment?
Yes, VTSAX has a minimum investment of $2,500.