If you're looking for a bond mutual fund, the best options are probably Fidelity Total Bond Fund (FTBFX) and Fidelity U.S. Bond Index Fund (FXNAX). Both funds use treasuries as their primary asset class.
But there are also some important differences between FTBFX and FXNAX, which we'll look at below.
FTBFX: Fidelity Total Bond Fund
The Fidelity Total Bond Fund (FTBFX) seeks to provide long-term capital growth through the U.S. investment grade fixed income market. 
FTBFX follows the Bloomberg Barclays U.S. Universal Bond Index. About 43% of its assets are invested in Corporate bonds. Another 26% invested in U.S government bonds. 
The fund currently has about $14 billion in AUM and has an expense ratio of 0.45%.
FXNAX: Fidelity U.S. Bond Index Fund
FXNAX is a passively managed mutual fund that is designed to provide investors with broad exposure to government and corporate debt securities with fixed interest rates and maturities.
The fund may invest up to 80% of its assets in highly rated money market funds or short-term notes with an average maturity of at least one year.
Unlike FTBFX, which charges a hefty amount in annual fees, the Fidelity U.S Bond Index Fund only costs 0.03%.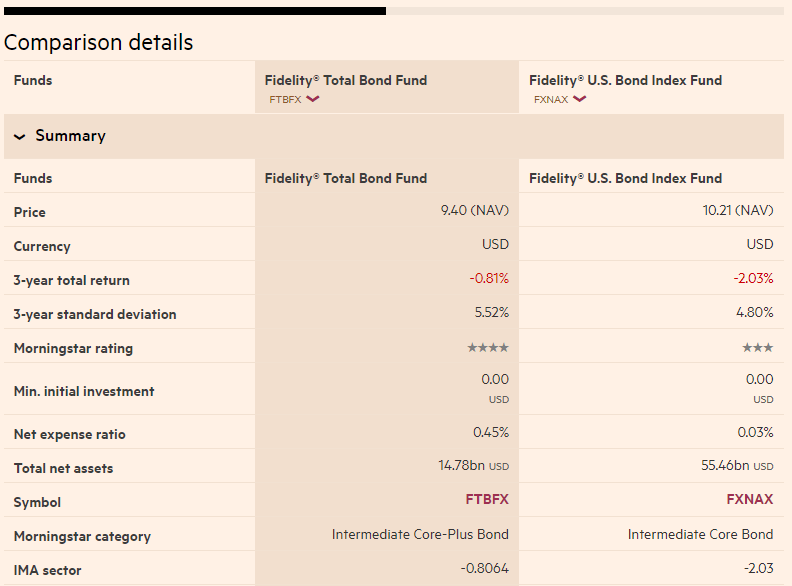 FTBFX vs. FXNAX: Key differences
FXNAX is cheaper than FTBFX in terms of cost. The expense ratio is 0.03% vs 0.45% respectively.
You could save $42 (per $10,000 invested) by putting your money in FXNAX.
FXNAX is managing a larger amount of assets than FTBFX ($55 billion vs. $14 billion).
FTBFX vs. FXNAX: Which Is Better?
So, which is better: FTBFX or FXNAX? Both have similar strategies and are intended to help investors navigate a period of rising volatility.
Based on the data we looked at, FXNAX is the clear winner. This fund has a lower expense ratio and a parallel performance.