VXUS is an international stock market ETF that provides broad exposure to overseas markets and eliminates currency risk.
A similar option from Fidelity called FZILX offers all the same benefits but with no annual expense ratio—a savings of 0.07% annually per $10,000 invested compared to VXUS.
Let's look at how these two products differ, so you can decide which one makes more sense for your portfolio.
VXUS: Vanguard Total International Stock Index Fund ETF
VXUS is a fund that tracks the FTSE All-World Ex U.S. Index, which includes small to large companies in developed countries outside the U.S.
VXUS has an expense ratio of 0.07% and $46 billion in assets under management.
What Is the Fidelity Equivalent of VXUS?
The Fidelity equivalent of VXUS is the Fidelity ZERO International Index Fund (FZILX).
FZILX is a no-cost international stock mutual fund that provides investors with exposure to foreign stocks.
It's managed by Fidelity Investments and is an alternative to VXUS in that it tracks a similar index.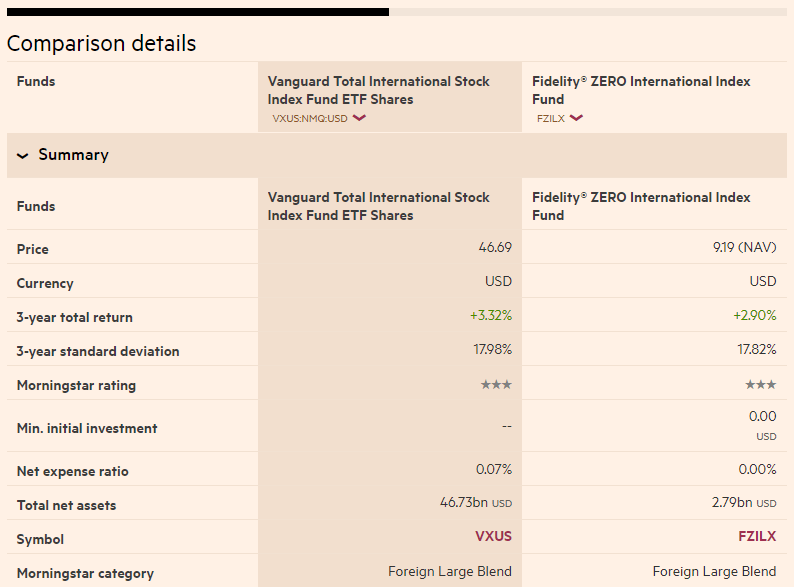 FZILX vs VXUS: Key differences
First, VXUS is an exchange-traded fund (ETF) while FZILX is a mutual fund.
The mutual fund has no yearly fees compared to its ETF counterpart.
There is no cost to investing in FZILX, whereas, with VXUS, you'll be paying $7 to Vanguard per $10,000 invested.
As you can see, these two funds are the same in terms of their holdings, performance, and investment goal.
FZILX is slightly better than VXUS because it doesn't charge a yearly fee to investors.