The Fidelity equivalent of VTSAX is FZROX (Fidelity ZERO Total Market Index Fund).
FZROX provides exposure to the entire U.S. stock market, including small-, mid-, and large-cap stocks. It has no expense ratio and has performed similarly to VTSAX over the long term.
The fund's holdings are well diversified across different sectors.
A Quick Glance at FZROX
| Funds | Fidelity® ZERO Total Market Index Fund |
| --- | --- |
| 3-year total return | +25.81% |
| 3-year standard deviation | 18.21% |
| Morningstar rating | ⭐⭐⭐ |
| Min. initial investment | 0.00 |
| Net expense ratio | 0.00% |
| Total net assets | 13.26bn USD |
| Morningstar category | Large Blend |
| IMA sector | 25.81 |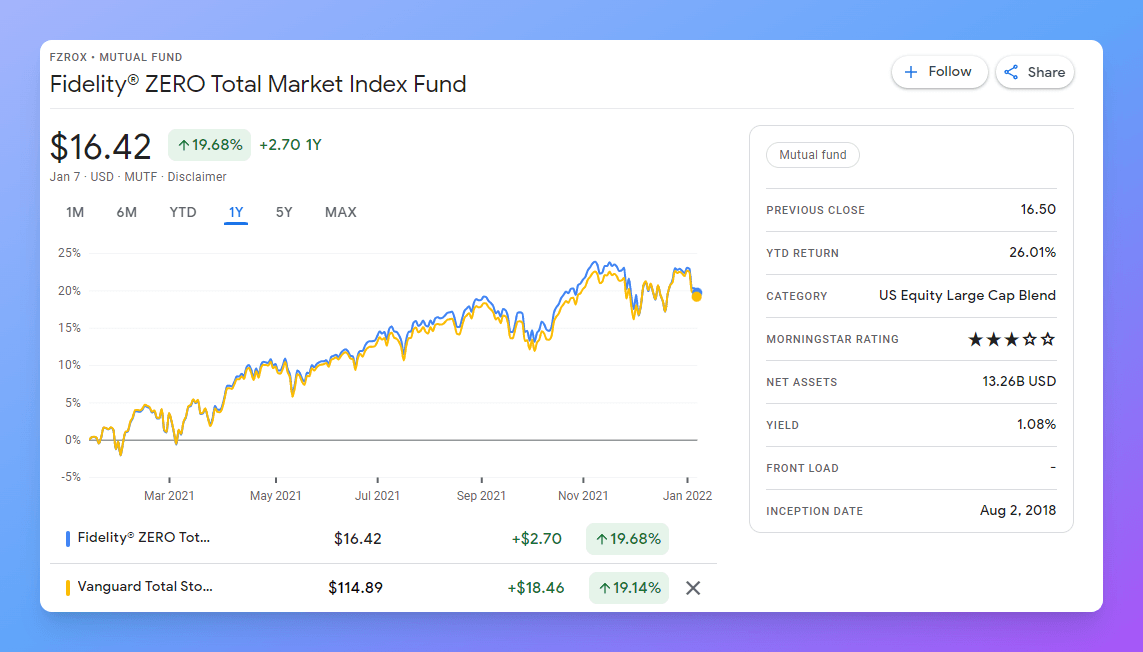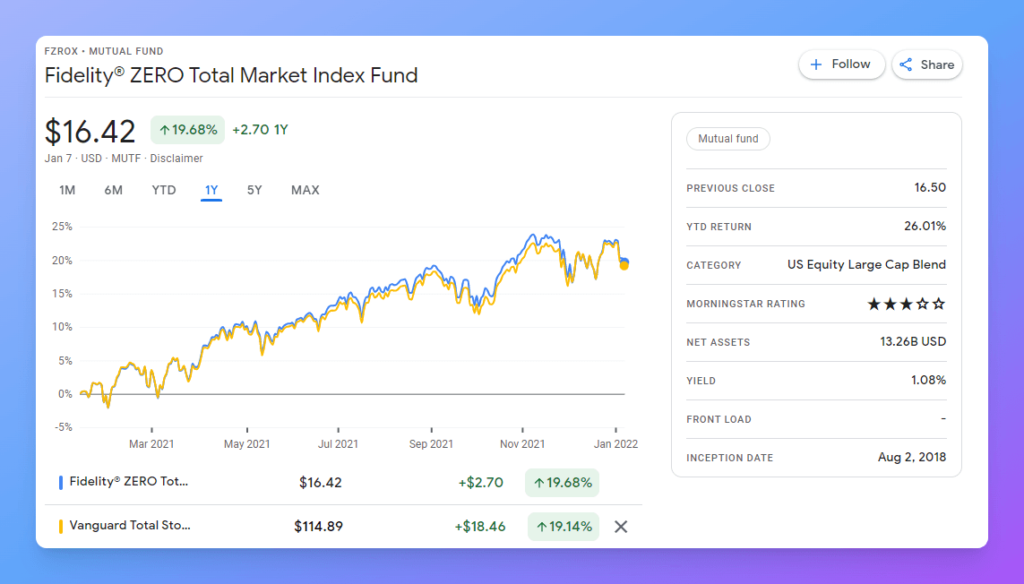 FAQs
What is the expense ratio of FZROX?
FZROX does not charge a yearly fee.
Does FZROX pay dividends?
Yes, it does. Fidelity ZERO Total Market Index Fund (FZROX) pays dividends once a year to shareholders.
Is FZROX a mutual fund?
FZROX is a Fidelity's mutual fund, it is not an ETF.
How does FZROX make money?
FZROX is a total market fund that really only holds like 75% of the market. It's a 0 expense ratio because it relies on lending its shares to short sellers for income.
How many stocks are in FZROX?
It has 2662 holdings as of 9/30/2021.
Is FZROX a Good Buy?
Imran M wrote –– Mar 15, 2020
I prefer FSKAX over it. FZROX distributes dividends annually and has the least number of holdings within the fund.
Joseph J wrote — Jan 18, 2021
Stephan Graham did a video on low cost index funds and FZROX seemed like the best one. Literally $0 cost expense ratio. A few of my best friends work at Fidelity and they were on that project. They definitely recommended it.